Who we are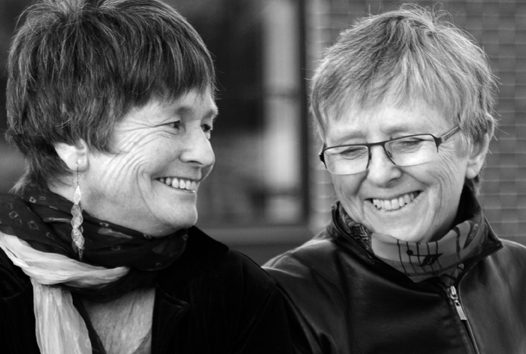 Jan Andrews and Jennifer Cayley. Two dynamic storytellers dedicated to ensuring that storytelling for adults achieves its full potential on the Canadian cultural scene.

Our emphasis is on storytelling of the highest caliber.

We have the skills to assist in program development; to handle promotion, administration and logistics.

We're experienced and we're hugely friendly. Working with us is not only rewarding, it's fun.
What we do
We organize and promote performances by ourselves and other tellers mostly but not exclusively in established performance venues. In the past we had a season and a season's brochure. We maintain a backlist of productions available for booking for that time.
Our lives changed and so have our activities. Right now Jan is focussing on performing her own show, Written in the Body, and finding means to morph that show into a larger entity titled, Who Wants the Dress? Jennifer is calling on her deep love of Wonder Tales to guarantee they maintain their presence on the cultural scene. She is, of course, telling stories from her own repertoire whenever she can. She is also assisting Jan's efforts with administrative back-up.
Where we do it
We're based in Lanark, Ontario. We have connections and contacts across the country. Who knows where evidence of our work may pop up?
Other Activities
We offer enriching workshops to groups, using the old tales, to bring people together in experiences of personal development.
We provide storytelling tools for organizational growth.
We are known for our ability to ensure meaningful group learning in workshops for storytellers at all levels -- from beginner to master class.
We offer individual coaching for script development, performance preparation, grant writing, event organization and promotion.*
Support
Board Chair: Colin Henein, policy wonk for the federal government, software expert, broadcaster, listener extraordinaire;
Secretary: Emily Pearlman, actor, playwright, director, producer, co-founder of one of Ottawa's brightest new theatre companies, MiCasa
Member at Large: Ellis Lynn Duschenes, teller of presence and power, founding member of Ottawa Storytellers.
Member at Large:Wendy Hartley: Program director MASC


Promotion Consultant: Annette Hegel, visual artist, activist;
Artistic Advisor: Jan Irwin, playwright, director, mover and shaker on the Ottawa theatre scene.


*We also have a number of other related talents. Visit www.janandrews.ca, jansstorytellingclub.wordpress.com and jennifercayleystoryteller.wordpress.com for more information.